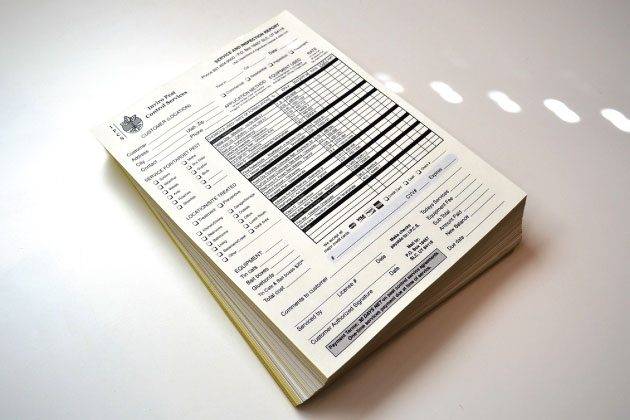 Design Services Starting at $55/hour
Production Time 2-3 Days After Proof Approval
You will enjoy the speed at which you can have duplicate copies of your most important forms, including invoices, order forms, and more.
We offer business form printing in the 2 most popular sizes.  Choose 2 copies (white & yellow) or 3 copies (white, yellow and pink).
Need an easy way to track of your forms, we offer free sequential numbering in black ink up to 5 digits in length.
Half Page (Orig + One Copy)
| | Stock | Size | Sides | 250 | 500 | 1000 | 2500 |
| --- | --- | --- | --- | --- | --- | --- | --- |
| | 2 PT NCR | 8.5" x 5.5" | Single Sided | $53 | $95 | $180 | $385 |
| | 2 PT NCR | 8.5" x 5.5" | Double Sided | $68 | $125 | $240 | $485 |
Full Page (Orig + One Copy)
| | Stock | Size | Sides | 250 | 500 | 1000 | 2500 |
| --- | --- | --- | --- | --- | --- | --- | --- |
| | 2 PT NCR | 8.5" x 11" | Single Sided | $85 | $170 | $340 | $750 |
| | 2 PT NCR | 8.5" x 11" | Double Sided | $115 | $230 | $460 | $950 |
Half Page (Orig + Two Copy)
| | Stock | Size | Sides | 250 | 500 | 1000 | 2500 |
| --- | --- | --- | --- | --- | --- | --- | --- |
| | 3 PT NCR | 8.5" x 5.5" | Single Sided | $80 | $150 | $240 | $685 |
| | 3 PT NCR | 8.5" x 5.5" | Double Sided | $103 | $195 | $380 | $785 |
Full Page (Orig + Two Copy)
| | Stock | Size | Sides | 250 | 500 | 1000 | 2500 |
| --- | --- | --- | --- | --- | --- | --- | --- |
| | 3 PT NCR | 8.5" x 11" | Single Sided | $140 | $280 | $560 | $1250 |
| | 3 PT NCR | 8.5" x 11" | Double Sided | $185 | $370 | $740 | $1550 |
Prices subject to change without notice