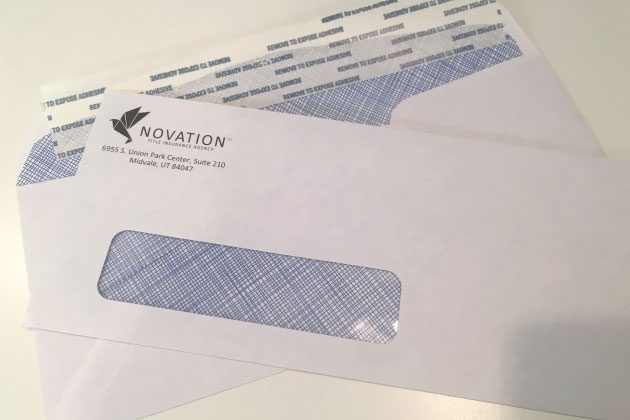 Design Services Starting at $15
Production Time 5-7 Days After Proof Approval
Envelopes are available in Regular, Window, Peel and Seal, and Security Tint. See chart below for options and pricing.
Peel & Seal – Seal envelope by pealing away a coated release paper. No moisture needed.
Security Tint Pattern – Perfect for mailing invoices, bills or other sensitive documents.
Other sizes available upon request, contact us today for an estimate.
#10 Full Color - No Window
| Stock | Size | 500 | 1000 | 2500 |
| --- | --- | --- | --- | --- |
| Standard Gum | 9.5" x 4.125" | $223 | $256 | $494 |
| Security Tint/Gum | 9.5" x 4.125" | $233 | $266 | $504 |
| Peal & Seal | 9.5" x 4.125" | $226 | $243 | $514 |
#10 Full Color - With Window
| Stock | Size | 500 | 1000 | 2500 |
| --- | --- | --- | --- | --- |
| Standard Gum | 9.5" x 4.125" | $249 | $296 | $564 |
| Security Tint/Gum | 9.5" x 4.125" | $259 | $306 | $574 |
| Peal & Seal | 9.5" x 4.125" | $269 | $316 | $584 |
#10 Spot Color - No Window
| Stock | Size | 500 | 1000 | 2500 |
| --- | --- | --- | --- | --- |
| Standard Gum | 9.5" x 4.125" | $84 | $101 | $179 |
| Security Tint/Gum | 9.5" x 4.125" | $90 | $109 | $195 |
| Peal & Seal | 9.5" x 4.125" | $104 | $143 | $277 |
| Peal & Seal + Tint | 9.5" x 4.125" | $108 | $147 | $279 |
Choose One Imprint Color: Black, Reflex Blue, or Red
#10 Spot Color - With Window
| Stock | Size | 500 | 1000 | 2500 |
| --- | --- | --- | --- | --- |
| Standard Gum | 9.5" x 4.125" | $88 | $109 | $195 |
| Security Tint/Gum | 9.5" x 4.125" | $94 | $113 | $203 |
| Peal & Seal | 9.5" x 4.125" | $108 | $147 | $279 |
| Peal & Seal + Tint | 9.5" x 4.125" | $118 | $153 | $329 |
Choose One Imprint Color: Black, Reflex Blue, or Red
Prices subject to change without notice